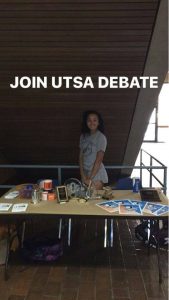 The debate team welcomes all UTSA students, regardless of debate experience. Whether you've never spoken in public or have four years of high school debate experience, we'd love to talk to you.
If you're a current UTSA student, email us at debate@utsa.edu and we'll schedule a time for you to come by and learn more about the team.
If you're currently a high school student who would like to debate in college, you can contact us at debate@utsa.edu.